Un'insolita mostra al Metropolitan Museum di New York celebra l'abito da funerale
Si avete capito bene, l'abito da funerale perchè il dress code, lo sappiamo, è importante - non pensavamo importante al punto di allestire una mostra, ma... -
Però, a pensarci, i funerali sono antichi quanto la storia dell'umanità, è un momento sociale in cui parenti, amici e conoscenti possono esprimere e condividere il proprio cordoglio e quindi per rispetto al defunto, a chi gli ha voluto bene e anche un po' per essere perfette ecco che l'abito assume una certa importanza, da sempre nero e con regole ben precise da seguire
'Death Becomes Her' (La Morte ti fa bella) titolo della mostra, analizza lo sviluppo estetico e le implicazioni culturali del lutto dall'epoca Vittoriana fino ai primi del ventesimo secolo
Esposti una trentina di "outfits" che ci fanno scoprire le regole sociali e le convenzioni dell'abbigliamento dell'epoca
Funerals are as old as the humanity history, is a social moment where the family and friends can express their sorrow and share their reminders. The dress code is important, always black, with strict rules that has to be followed , so much the expression of a society that the Metropolitan Museum in NY, dedicates an exhibition to this argument
.
The exhibition explores the aesthetic development and cultural implications of mourning fashions of the 19th and early 20th centuries. Approximately 30 ensembles, many of which are being exhibited for the first time, reveal the impact of high-fashion standards on the sartorial dictates of bereavement rituals as they evolved over a century.
www.metmuseum.org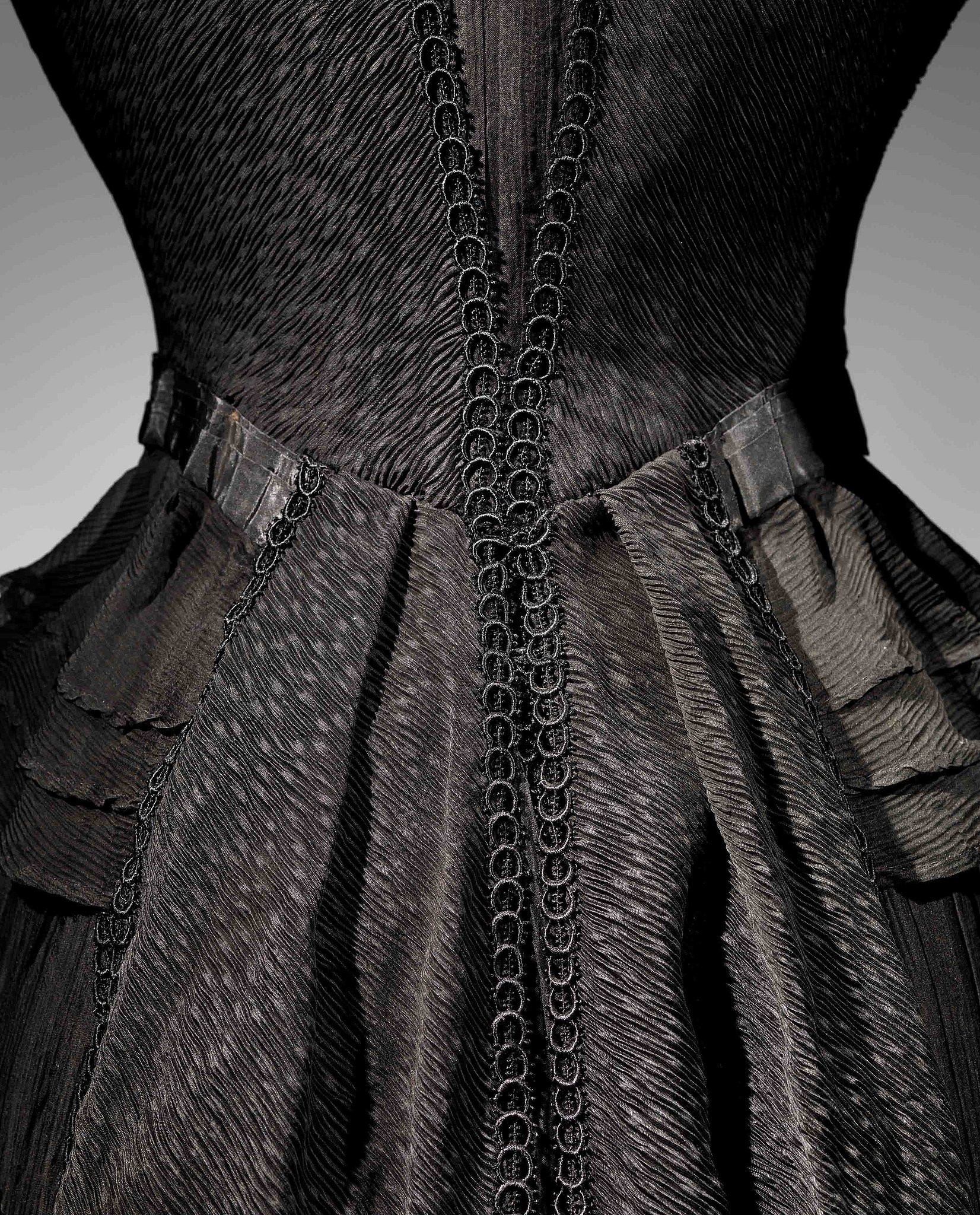 Funerali famosi ai tempi nostri:
Famous funeral in our time:
Jacky Kennedy, al funerale di JFK
Jacky Kennedy at JFK's funeral
Lady D al funerale di Gianni Versace
Lady D at Gianni Versace funeral
Funerale di Alexander McQueen
Alexander McQueen funeral
Naomi Campbell
Kate Moss
Anne Wintour al funerale di Oscar de La Renta
Anne Wintour at Oscar de La Renta funeral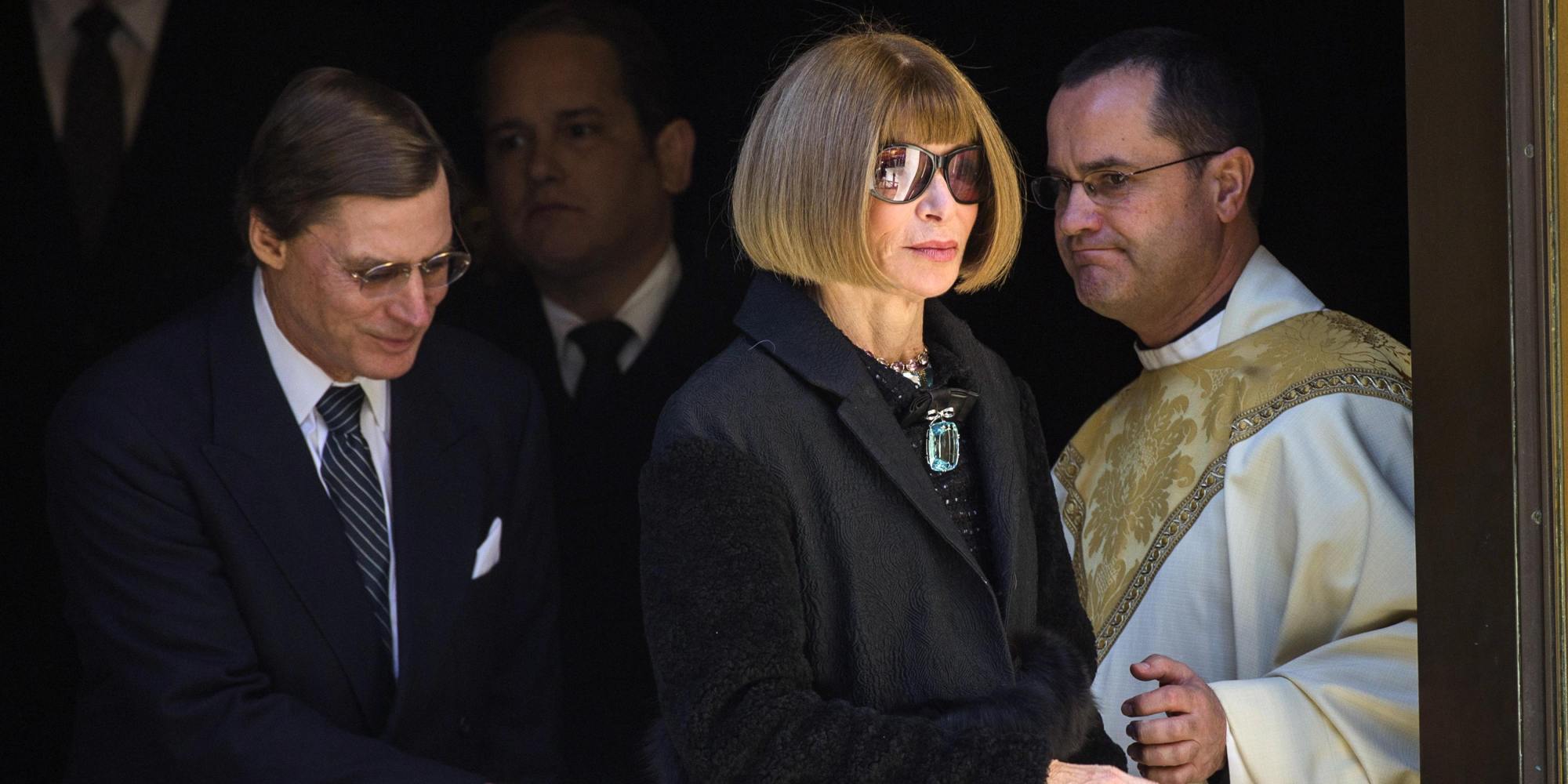 la top model Karlie Kloss al funerale di Oscar de La Renta
top model Karlie Kloss at Oscar de La Renta funeral
Giorgio Armani al funerale di Carlo Ponti
Giorgio Armani at Carlo Ponti funeral
Alcuni consigli dalla nostra Anto per essere sempre "a posto" ( lei ne ha uno per le stagioni fredde e uno per quando fa più caldo!!):
comprate un tailleur che sia pantalone o gonna, nel caso dobbiate andare a un funerale
Io ne ho uno gessato di Dolce e Gabbana
Some tips from our Anto to always be "right" (she has one for the cold season and one for when it's hot !!):
buy a pants or skirt suit, and wear it if a funeral will occur.
I have a pin-stripe pant from Dolce&Gabbana
con l'inconfondibile fodera animal print che da un po' di brio...
with the unmistakable animal print lining for some zing...
da indossare con accessori come questi:
to pair with accessories as:
Roger Vivier
Chanel borsa in tweed
Chanel tweed bag
Dal 21 Ottobre 2014 al 1 Febbraio 2015 nel padiglione Anna Wintour
Metropolitan Museum di New York
From October 21, 2014 to February 1, 2015 in the pavilion Anna Wintour at the
Metropolitan Museum in New York