Downton Abbey, la serie inglese ambientata ai primi del '900,
è una fantastica vetrina della moda degli anni '20
ed ha ispirato una mostra al
Winterthur Museum
nello stato del Delaware negli USA
Questa collezione di 40 abiti delle prime quattro serie sono in mostra presso il
Museo di Winterthur, una ex
sontuosa
tenuta della
famiglia du Pont, upper class del Delaware
Nel suo periodo di massimo splendore - un secolo fa - questa tenuta era l'equivalente americano della fittizia Downton Abbey ed i visitatori della mostra potranno confrontare le storie di queste due facoltose famiglie, una reale ed una inventata dalla cinematografia.
La curatrice della mostra sottolinea come ai tempi si vivesse una vita di straordinaria precisione, con molte regole che sono
oggi
sconosciute ai più: per esempio quando si indossano i guanti, quando si indossa una tiara, quando e come si porta il cappello (mai dopo mezzogiorno!) ...
T

his collection of 40 costumes from the first four series of the hit TV drama are on display at the Winterthur Museum, a palatial former estate of the upper class du Pont family in Delaware, USA.
In its heyday a century ago, it was the American equivalent of the fictional Downtown Abbey and now visitors to the exhibitions can compare the histories of these two very wealthy families - one real, one fictional. The curator underlines that during those times, people lived a life of amazing precision,
with many rules that are unfamiliar to us today: when you wear gloves, when you wear a tiara, when is a white tie appropriate, when and how to wear a hat (never after noon!) ...
Ed ecco alcune immagini, tratte dallo sceneggiato, per meglio apprezzare lo stile dell'abbigliamento
L'abito estivo, in seta écru, dal taglio molto attuale, indossato con cappello e il classico filo di perle
qui nella sua espressione più chic e i guantini in dentelle.
The summer dress, very updated in soft silk, so updated in cut and style, worn with a hat and the classic one string of pearls, so chic, and the short gloves, in dentelle.
Un particolare dei cappelli, molto importanti e parte del look quotidiano, di paglia decorati con nastri in tessuto e fiocchi
A close-up of the straw hats, part of the daily look, decorated with fabric ribbons and bows
L'abito da sposa di Lady Mary, così semplice ed elegante, in chiffon e pizzo valenciennes, maniche lunghe, leggero e discreto,potrebbe essere di ispirazione alle spose di oggi, spesso vestite con abiti più da sera che da sposa...
Lady Mary wedding gown, so simple and elegant in chiffon and valenciennes lace, light and discrete,
could be a good inspiration for today's brides, dressed more for a party then for a wedding...
ecco anche quello di Lady Edith, in raso, semplicissimo e lineare, e le damigelle in colori pastello, braccia coperte....cappello....
and Lady Edith's, very simple column dress in satin, the maid brides in pastel colors, short sleeves and matching hats
Per la sera, molto attuale l'abito di tulle ricamato e la tiara a foglie, e lunghi guanti di satin nero
For the evening, very updated, the tulle embroidered dress and the leaves tiara with long satin gloves
Acconciature preziose ma semplici
Precious but simple hairstyle
Ancora tulle, pizzo e ricami, potrebbero essere abiti da sera dellasatgione attuale, AI 2014
Again tulle and embroidered lace, these could be from FW 14 evening collections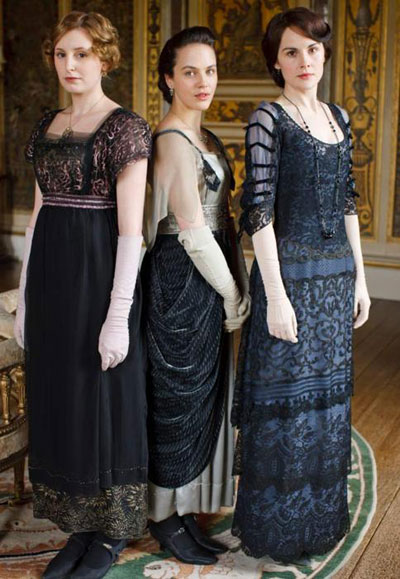 Abiti neri, attuali anche allora, con guanti lunghi al gomito
Black dresses, trendy at that time as well, with long gloves to the elbow
Soprabiti in velluto bordati di pelliccia, piccole borsettine e sempre il cappello
Velvet coats trimmed in fur, small clutches and always the hat
Della serie - lo abbiamo già detto - siamo appassionatissime!
Bellissime atmosfere di altri tempi e abiti così eleganti e così attuali...
We are very passionate of the series, the atmosphere is so charming, and the costumes so elegant and inspiring...