Nella scia dei pop-up-stores, qui un pop-up-restaurant, tempio gastronomico temporaneo, che aprirà il prossimo 6 maggio, in occasione di Expo 2015, in una location d'eccezione: sul tetto di Palazzo Beltrami, in Piazza della Scala, nel centro di Milano!Per tutta la durata dell'Expo, da Maggio a Novembre.
Si chiamera' "Priceless", e
ospitera' chef stellati nazionali e internazionali, per offrire a quanti visiteranno la nostra citta' un'esperienza culinaria veramente particolare.
Un box di vetro,di 150 metri quadrati; all'interno un unico tavolo per soli 24 ospiti e una piccola cucina. All'esterno come protezione dal sole , una vela in lamiera di alluminio dalle tinte bronzo-oro, molto scenografica.

Following the pop-up store trend, here is a pop-up restaurant, temporary gastronomic temple that is scheduled to open on May 6, on the occasion of Expo 2015. It's in an exceptional location: on the roof of Palazzo Beltrami, in Piazza della Scala, which is in the very center of Milan! It will be there for the duration of the Expo, from May to November 2015
"Priceless" is the name of the new restaurant, and will host 4-star chefs, Italians and international, to offer those who will be visiting our city a truly special dining experience.
A glass box, 150 square meters; inside is only one long table for 24 guests and a small kitchen. Outside, as a protection from the sun, an aluminum bronze-hued gold sail, very scenic.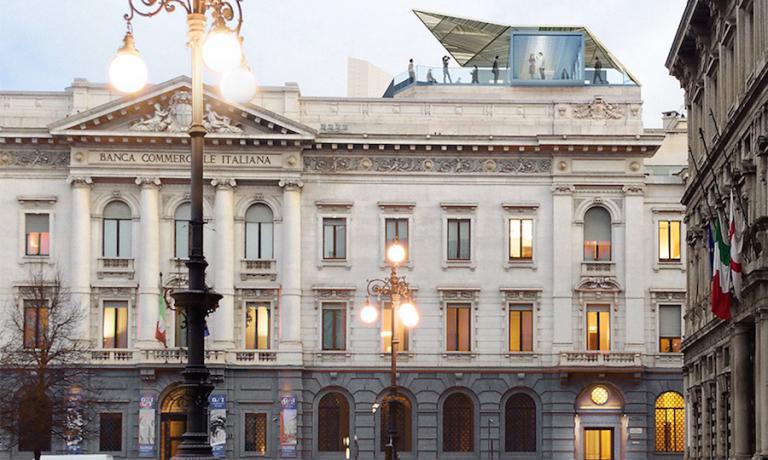 Priceless Milano

sarà l'appuntamento gastronomico stellato di "Expo in città" dove verranno affrontati ogni settimana temi e tendenze; senza turno di chiusura; funzionerà sette giorni su sette. Unica nota dolente...il prezzo della cena: 250 euro a persona, ma tutto compreso, anche le sorprese!
Priceless Milan will be the gastronomic event for "Expo in the city" where the themes and trends will be every week; no shift closure and will be open seven days a week.
The only problem is the cost: 250 euro per person, all inclusive, including the surprises!