Stars, attrici come Tilda Swinton, supermodel come Gisele Bündchen erano gli ospiti della Chanel
Cruise 2016/'17 a Cuba; rinominata da Karl Lagerfeld "Coco Cuba"Un evento internazionale che si è tenuto in una delle vie più celebri de L'Avana: il Paseo del Prado L'isola, dopo 54 anni di isolamento, si è trasformata in una festa mobile. Karl Lagerfeld, 82 anni, direttore creativo della Maison dal 1982, si è ispirato a alla Cuba pre-rivoluzionaria; la location è stata trasformata nella Cuba degli anni 50 tra colori accesi e auto vintage

Celebrities, such as actress Tilda Swinton and supermodel Gisele Bündchen, were guests of Chanel
Cruise 2016/17 in Cuba, which Karl Lagerfeld renamed "Coco Cuba"
An international event that was held in one of the most famous streets of Havana, Paseo del Prado. The island, after 54 years of isolation, has become a moveable feast. Karl Lagerfeld, 82, creative director of the Maison since 1982, was inspired by the pre-revolutionary Cuba. The entire location has been transformed in the Cuba of the 50s, including bright colors and vintage cars.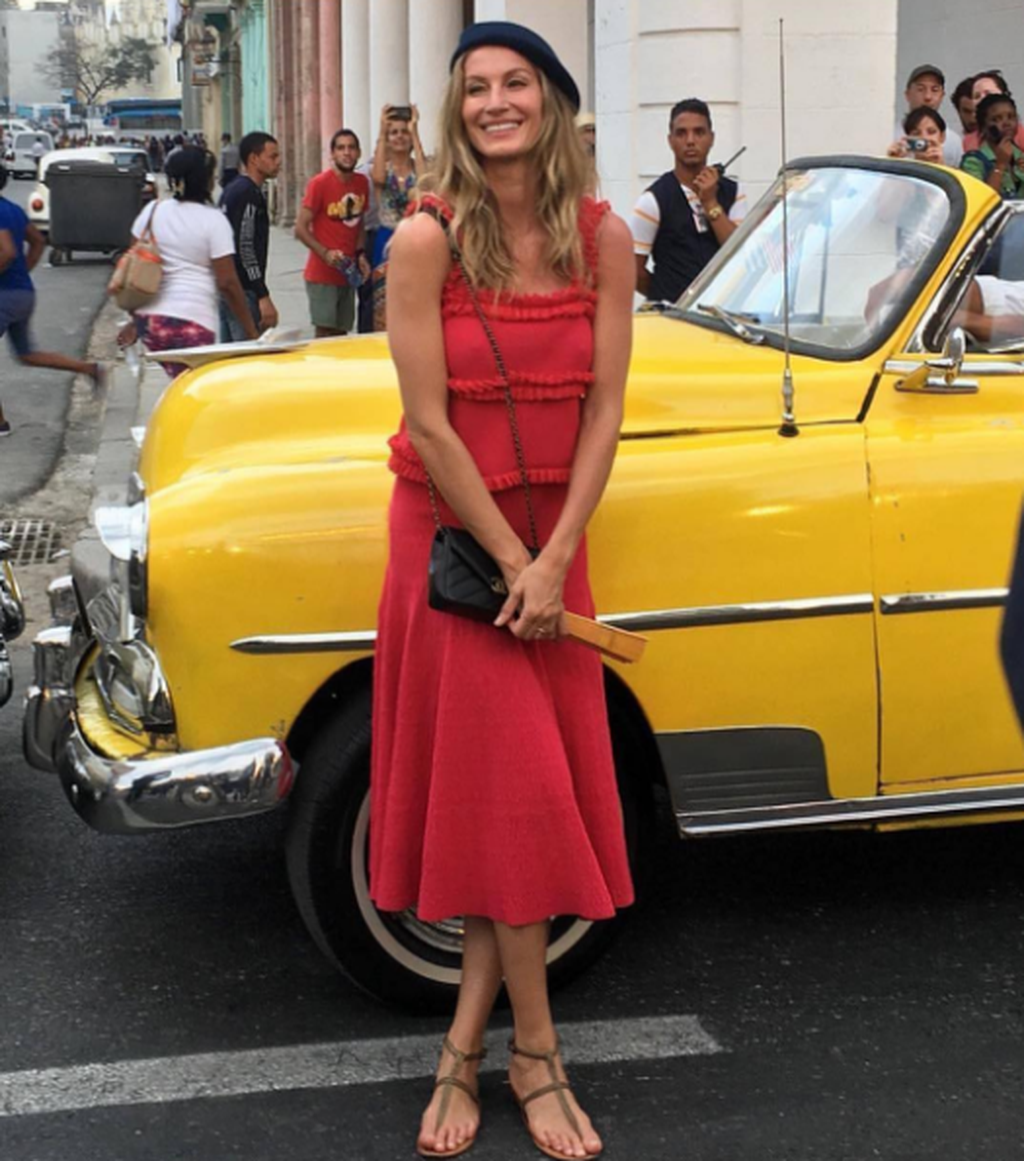 La colonna sonora dello show era musica cubana: emozioni e glamour della Cuba d'altri tempi.
Una passerella di 160 metri decorata con luci e leoni di bronzo, gli animali feticcio di Coco Chanel, è stata allestita all'aperto. Fresca, giovane e moderna la pre-collection 2016-17: le giacche iconiche, i baschi alla Che Guevara ricamati con paillettes e abiti che sono una reinterpretazione del tradizionale abitocamicia cubano "guayabera" chiamato ora "Cuban tux".
The show's soundtrack, Cuban music, excitement and glamor of the Cuba of yesteryear.
The venue, a cat walk 160 meters long, was decorated with lights and bronze lions, the Coco Chanel fetish animals. Fresh, young and modern is the Pre-collection 2016-17; iconic jackets, berets as the Che Guevara's, but embroidered with sequins and dresses that are a reinterpretation of the traditional Cuban dress shirt "guayabera" now called "Cuban tux"

Colori di Cuba! Ispirazione per la sfilata - Cuban colors! An inspiration for the fashion show
La lunga passerella all'aperto - The long outdoor catwalk
Alcuni dei capi della collezione - Some of the outfits
Meraviglioso: peccato non esserci state...

Wonderful: pity that we were not there...