Tel Aviv è sicuramente una città da visitare; una delle mete più cool del momento: una spiaggia lunghissima, molti giovani, bar e ristoranti. Ogni zona ha la sua particolarità ma quella più vivace è sicuramente Neve Tzedek nel cuore della città vecchia; tante case vecchie, alcune anche un po' malandate ma molte ristrutturate benissimo, moderne e di ottimo gusto, bar, ristoranti, coffe shops, piccole boutique, negozi per la casa, gioiellerie insomma un po' di tutto
L'Epicerie Fine è un mix di drogheria e salumeria, con prodotti italiani e francesi molto ricercati; un banco di gastronomia tipicamente israelo-araba e articoli per la casa molto francesi, separati tra loro da un piccolo cortile con un solo tavolo, dove si può mangiare quello che si acquista nel negozio
Tel Aviv is for sure one of the coolest places to visit; it's beautiful, full of energy, a long beach, young people...every neighborhood has his own particularity, but the coolest one for sure is Neve Tzedek.
Here, in an old part of town, are many small houses, many still to be restructured, and many already extremely beautiful inside. Many shops, coffe shops, little stores for RTW, jewelry, and home items.
L'épicerie Fine is a mix of two, at the main entrance is a very exclusive fine food store, with many Italian and French brands and fresh Israeli deli, super fresh and tasty, that can be eaten in the small courtyard that divides the food store from the home store.
La parte dedicata la cibo
The first part, grocery and deli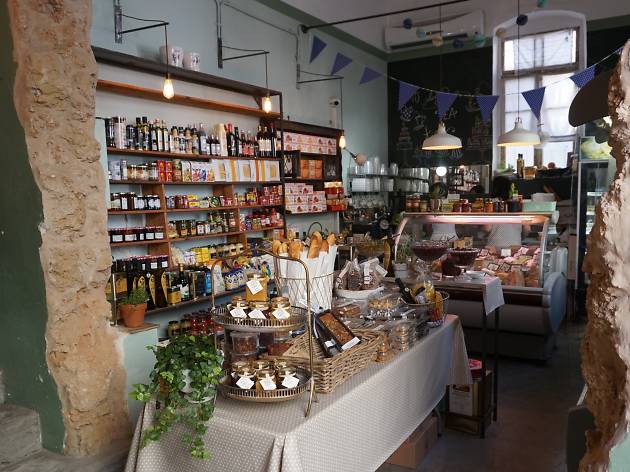 Il piccolo cortile, e il tavolo per massimo 8 persone
The small courtyard, and the table for max of 8 people
Ceramiche bianche
White ceramics
Candele francesi
French candles