INVISIBLE ROOMS
A Palazzo Morando, i
n Via Sant'Andrea,
dal 5 al 21 novembre potete ammirare l'installazione ispirata al libro di Italo Calvino "Le Citta' Invisibili" curato dallo studio di architettura "Neri&Hu" di Shanghai
Si tratta del primo progetto di interior design di Neri&Hu realizzato in Italia, ma già da anni lavorano con brand affermati del Made in Italy. E in questo progetto
Neri&Hu hanno deciso di rivisitare
l'essenza fondamentale dell'ospitalità come luogo di condivisione ed apertura alle diverse culture
, esplorando il concetto di hotel come area comune ed estensione del contesto urbano.
In Via Sant'Andrea at Palazzo Morando, from November 5 to 21 the installation inspired by the book by Italo Calvino "The Invisible Cities", curated by the "Neri & Hu" architecture studio in Shanghai
This is the first interior design project by Neri & Hu made in Italy, where for years they have been working with established brands of Made in Italy. And in this project Neri & Hu decided to revisit the fundamental essence of hospitality as a place of sharing and openness to different cultures, exploring the concept of hotel as a common area and extension of the urban context.
Lounge
Ristorante - Restaurant
La cucina - The kitchen
Library
Meeting room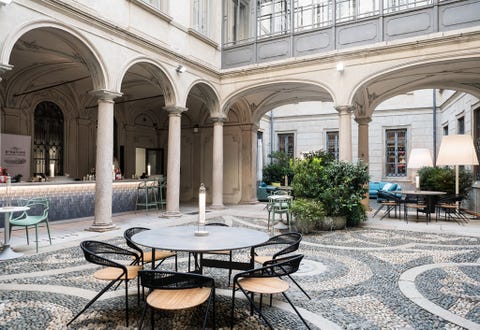 Il bar nel cortile di Palazzo Morando - The bar in the courtyard of Palazzo Morando
Elle Decor Grand Hotel. Invisible Rooms
Palazzo Morando|Costume Moda Immagine
via Sant'Andrea 6, Milano
Dal 5 al

21 Ottobre 2018, h. 10-21
Ristorante aperto tutti i giorni dalle
12 alle 15
per prenotazioni : milano@maiorestaurant.com
Tel. 334/6754473
Elle Decor Grand Hotel. Invisible Rooms
Palazzo Morando|Fashion Costume Image
via Sant'Andrea 6, Milan
From 5 to 21 October 2018, h. 10-21
Restaurant open every day from 12 to 15
for reservations: milano@maiorestaurant.com
Ph. 334/6754473