La giornalista americana J.J.Martin, che vive a Milano da oltre 16 anni e ha lavorato per riviste come Harper's Bazaar, WSJ, Wallpaper, The NY Times Style Magazine, Vogue, AD e Elle Décor, è la designer della collezione
DOUBLEJ
J. J. ha cominciato aprendo un e-magazine per la vendita di abiti e gioielli vintage recuperati in giro per l'Italia
La prima collezione, con solo 8 abiti in seta con le incredibili stampe vintage dall'archivio
Mantero
ha avuto un enorme
successo
The American journalist J.J.Martin, who has lived in Milan for over 16 years and has worked for magazines such as Harper's Bazaar, WSJ, Wallpaper, The NY Times Style Magazine, Vogue, AD and Elle Décor, is the designer of the DOUBLEJ collection. She began by opening an e-magazine for the sale of vintage clothes and jewels that he had cured and amassed throughout Italy
The first collection, with only 8 silk dresses with incredible vintage prints, from the Mantero archive, was a huge success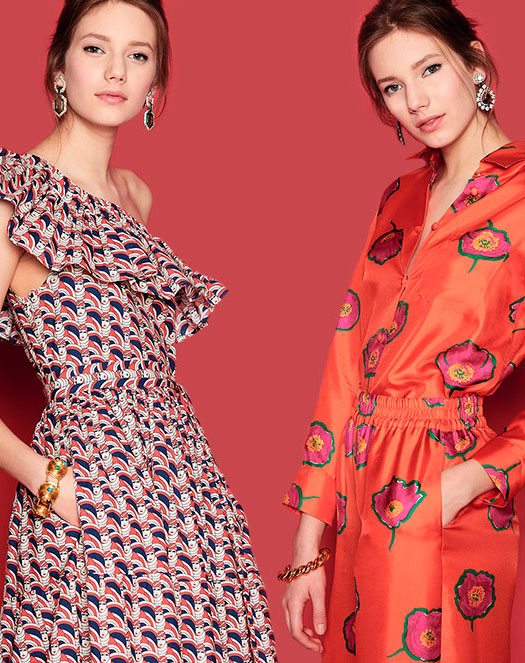 Collezione SS 18 -
Collections SS 18
Così
LaDoublej
si è trasformato in un'etichetta di abbigliamento per donna, uomo e bambino, sempre utilizzando le sontuose e colorate sete stampate con motivi vintage dell'azienda comasca
So La Doublej which started as an e-shop just for vintage clothes and jewelry, has turned into a clothing label for women, men and children, using the sumptuous and colorful silks printed with vintage motifs from the company Lake Como.
Arriva ora la collezione casa Double J Housewives, una linea di piatti, articoli per la tavola, mobili e accessori tutti con motivi vintage e colori vivaci destinati a essere mescolati e abbinati e stratificati con il loro tavolo modellato - lenzuola e tovaglioli nel migliore stile massimalista.
La Double J ha uno showroom a Milano e negozi pop-up alla Rinascente di Milano, da
Bergdorf Goodman a NY,
a
Le Bon Marché a Parigi, da
Liberty a Londra.
And the house collection Double J Housewives, a line of dishes, tableware, furniture and accessories, all with vintage motifs and bright colors, intended to be mixed and matched and layered with their patterned table - sheets and napkins in the best maximalist style. The Double J has a showroom in Milan and pop-up stores at the Rinascente in Milan, from Bergdorf Goodman to NY, in Paris at Le Bon March, in London from Liberty.
Qui una delle sue stupende tavole - One of her gorgeous table-set