Inaugurato durante la settimana del Salone del Mobile, il ristorante di TOM DIXON è una realtà nuova per la città, non solo "cibo" ma anche spazio di vendita dei mobili, oggetti e delle lampade esposte - Spring, costruite con un intreccio avvolgente di striscioline sottili di acciaio inossidabile e un cuore di LED, e i globi luminosi in policarbonato Opal -
Opened during the Salone del Mobile week, TOM DIXON's restaurant is a new reality for the city. Not just "food" but also sales space for furniture, objects and lamps on display - The lamps Spring, built with an enveloping weave of thin strips of stainless steel and a heart of LEDs, and the luminous globes in Opal polycarbonate
40 coperti disposti attorno a un tavolone di sughero più altri sessanta organizzati intorno a tavolini, un cocktail bar, una zona dedicata all'esposizione dei prodotti, altri angoli come " the jungle"
40 seats arranged around a large cork table plus another sixty arranged around small tables, a cocktail bar, an area dedicated to the display of products, while other corners like "the jungle"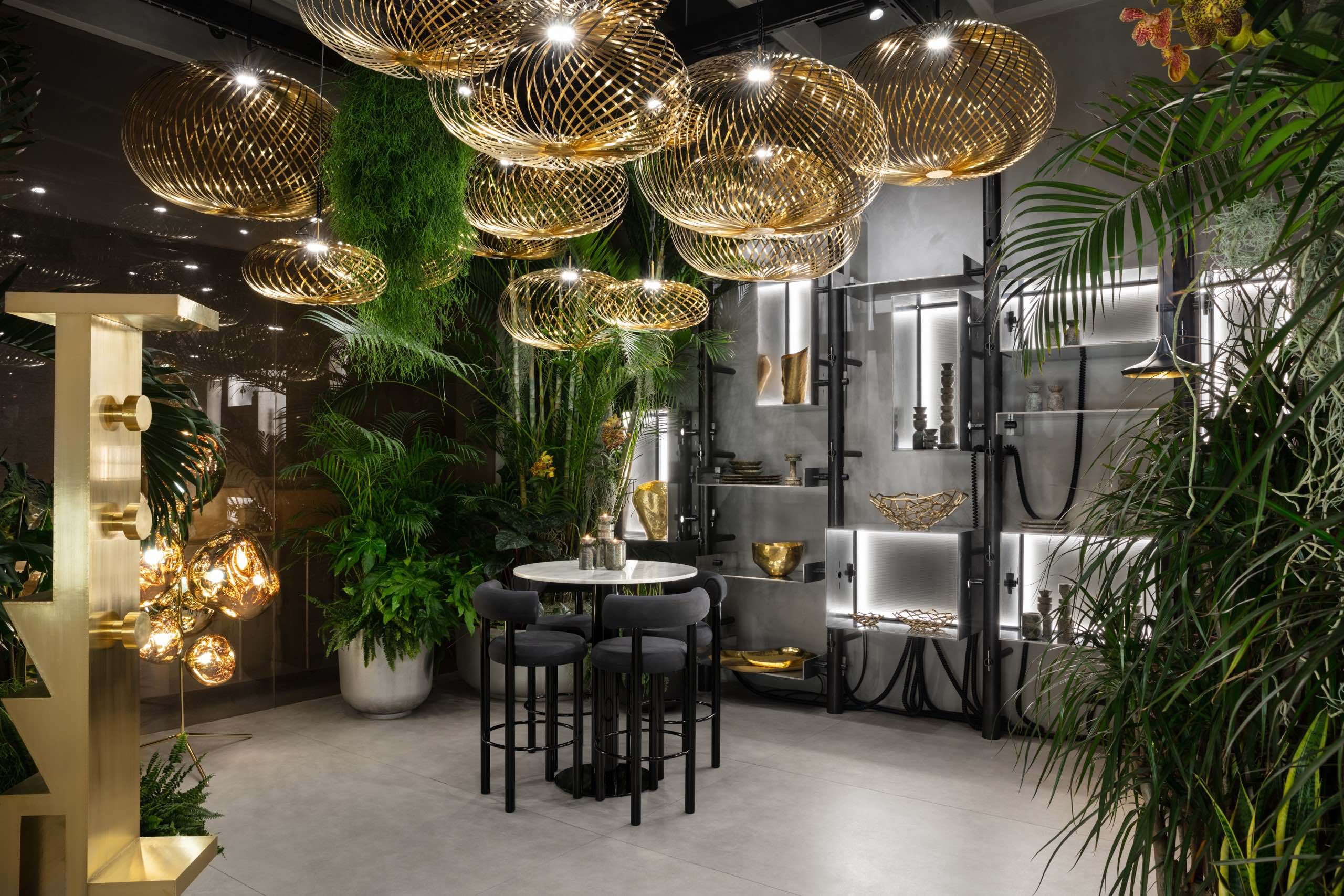 L'apertura del The Manzoni - al numero 5 di via Manzoni - è stato uno degli eventi più attesi della design week ed è stata l'occasione per presentare i nuovi prodotti al pubblico di designers e architetti che popolano la settimana del Salone del Mobile a Milano.
Ai fornelli c'è lo chef, la modenese Marta Pulini, che ha guidato importanti ristoranti negli Stati Uniti e in Italia (per esempio, il Bistrot di Massimo Bottura la Franceschetta) e proporrà interpretazioni personali di piatti della cucina italiana e milanese.
La clientela è molto eclettica, dai businessman all'ora di pranzo, perché siamo nel cuore del quartiere finanziario, ai turisti stranieri che soggiornano nei numerosi hotel della zona, e sopratutto gli appassionati di design, che ritroveranno negli spazi il DNA del brand, ma anche la community artistica e la scena della moda così fervida a Milano in questo momento
The opening of The Manzoni - at 5 Via Manzoni - was one of the most anticipated events of the design week. It was an opportunity to present the new products to the public of designers and architects who populate the Salone del Mobile week at Milan.
In the kitchen there is the chef, the Modena-born Marta Pulini, who has led important restaurants in the United States and Italy (for example, the Bistrot by Massimo Bottura la Franceschetta), and will offer personal interpretations of Italian and Milanese cuisine.
The clientele is very eclectic, from businessmen to lunchtime, because we are in the heart of the financial district, to foreign tourists staying in the many hotels in the area, and above all design enthusiasts, who will find the brand's DNA in the spaces, but also the artistic community and the fervent fashion scene in Milan right now
The Manzoni,
via Manzoni 15, Milano
Pranzo – ore 12-15 Aperitivo e cena – ore 18,30-23 (last call)
Showroom e acquisti – 10 - 22
www.themanzoni.com